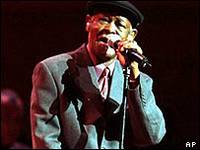 Ibrahim Ferrer

Missus Think of England and I went to see the 78 year old Cuban singer Ibrahim Ferrer at the Colston Hall last night.
Tall, thin and in trademark suit and flat cap, he hobbles onto the stage and has to be helped with the microphone a fair bit, but phew, what a voice! ...A totally unique sound that can't have been any stronger or clearer when he began singing in the Havana nightclubs of the 1940s.
He had a whole orchestra of virtuoso Cuban musicians (they hid the hired English session guys on strings at the back of the stage), including a quite astonishing pianist, who at one point hammered the keys so fast his hands were literally a blur.
Ferrer is famous as the singer with the Buena Vista Social Club, discovered/put together by the American musician Ry Cooder.
If you haven't
seen the film
, or bought
the album
, I can thoroughly recommend them.
The music is instantly loveable: a bit Latin, a bit jazzy, a bit North African, perhaps a touch of slowed-down salsa, and very easy on the ear.
Two hours of hypnotic bliss, and wonderful warmth from the audience, who gave him a series of epic standing ovations.
I don't suppose we'll see him again sadly, but you never know. If you get the chance, don't miss him.